Summing up the 2nd stage of the SAL "Emerald City"

Elena Shirshova
September 10, 2019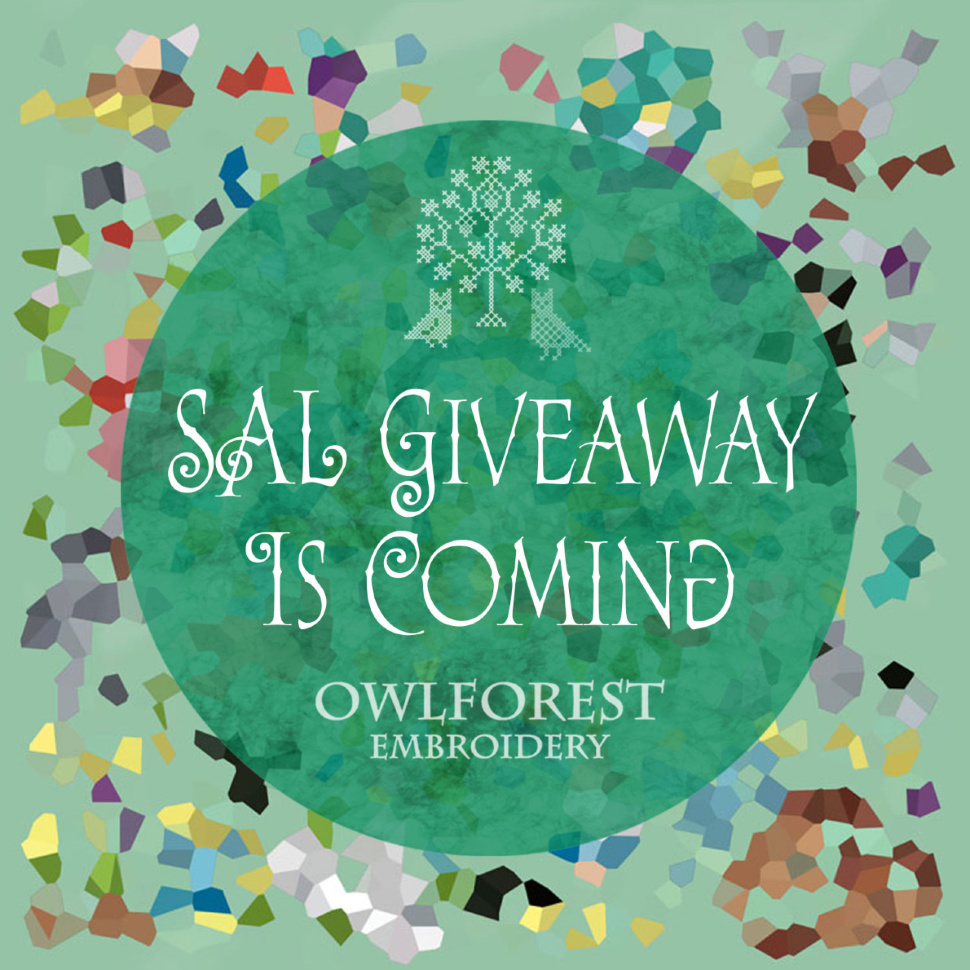 Dear SAL participants! Summarizing the second stage was even more difficult than the first. Since our main prize is "not allowed to travel abroad," we will hold two raffles, the first for those who live in the territory of the Russian Federation, and the second for those who live abroad.
For all participants who managed to embroider 5-7 pieces before August 25 (September 8), we give a 10% discount on the purchase of goods in our owlforest.ru online store and among all participants we will play special prizes: 7 certificates for a discount of 750 rubles. To get a personal discount code, you will need to write to the direct on instagram @gellara17 or @owlforest.embroidery.eng
Our SAL takes place on two information platforms: on the social network VKontakte and on Instagram. Last time, we did not publish lists from VKontakte in English, since it is Russian-speaking, and the giveaways were held separately. The second Giveaway will be on a territorial basis, so below 4 lists (Russia / not Russia, Instagram / VKontakte)
The draw will take place on Thursday September, 12 at 11:00 Moscow time.
Below we publish the combined list of participants (Russia / not Russia, Instagram + VKontakte), you can see your number, if there is an inaccuracy, be sure towrite to us.
The list of participants from Russia:

1. Дарья Болтовская
2. Светлана Федорова
3. Людмила Петрова
4. Надежда Имангулова
5. Ольга Фролова
6. Нина Дрейгер
7. Наталья Пухова
8. Маргарита Жирникова
9. Оксана Леус
10. Nadia Sarkisyan
11. Елена Драй
12. Марина Сычева
13. Татьяна Юркина
14. Марина Силина
15. Наталья Рогалёва
16. Марина Федий
17. Юлия Потосян
18. Виктория Низева
19. Саша Балдина
20. Елена Ищенко
21. Надежда Кононова
22. Надежда Николаева
23. Алла Антонова
24. Маргарита Николаева
25. Кошка Муська
26. Татьяна Муррр
27. Светлана Ермакова
28. Оксана Квашнина
29. Людмила Трифанова
30. Анна Померанцева
31. Наталья Рунова
32. Екатерина Яровая
33. Елена Орлова
34. Julia Penyavskaya
35. Евгения Алферова
36. Юлия Кащенко
37. Наталия Агафонова
38. Наталья Блохина
39. Елена Платонова
40. Александра Мирошниченко
41. Ирина Бекасова
42. Ольга Богатырева
43. Виктория Александрова
44. Александра Сашенька
45. Юлия Башилова
46. Екатерина Григорьева
47. Алла Потапова
48. Ирина Лихачева
49. Татьяна Хромова
50. Татьяна Ефремова
51. Ксения Кошелева
52. Раиса Куприянова
53. Наталья Филатова
54. Мария Бурдина
55. Ирина Владимировна
56. Катерина Миронова
57. Наталья Стасенко
58. Ирка Кулемина
59. Людмила Меметова
60. Надежда Фомина
61. Виктория Ермолина
62. Анна Калачева
63. Любовь Ростовцева
64. Мария Пискунова
65. Елена Жебелева
66. Елена Корсакова
67. Виктория Смирнова
68. Катерина Письменная
69. Анастасия Аникина
70. Дина Снигирева
71. Александра Францева
72. Анастасия Шишкина
73. Ольга Быстрова
74. Надежда Лешукова
75. Галина Лобова
76. Александра Кривицкая
77. Татьяна Васильева
78. Ирина Майзелес
79. Наталья Киселёва
80. Валентина Буданова
81. Анастасия Маслова
82. Юлия Кулюкина
83. Елена Михилева
84. Оксана Де-Санта
85. Маришка Leona
86. Наталья Ахмедьянова
87. Elena Palen
88. Татьяна Никишенко
89. Светлана Давыдова
90. Света Кузнецова
91. Галина Баранова
92. Аня Дегтярёва
93. Нина Осипенкова
94. Ксения Бортникова
95. Марина Хрулева
96. Татьяна Борисова
97. Алина Михайлова
98. Елена Закубышкина
99. Юлия Матвеева
100. Мария Юкляевских
101. Татьяна Тарасова
102. Олеся Харитонова
103. Ксю Soulcracked
104. Елена Кондратенко
105. Алина Воловик
106. Евгения Шишлова
107. Наталия Гущина
108. Натали Новикова
109. Ирина Башкирова
110. Алла Осипова
111. Татьяна Мишина
112. Полина Шкорбатова
113. Ирина Царева
114. Виктория Натарова
115. Ирина Кузнецова
116. Людмила Болтушкина
117. Наталья Аринбекова
118. Екатерина Пронкина
119. Мария Щербакова
120. Галина Скородумова
121. Любовь Чаплыгина
122. Ирина Митавская
123. Тамара Ковалюк
124. Екатерина Четверикова
125. Оксана Михеева
126. Ольга Лоскутова
127. Любовь Шевердина
128. Наталья Ракиткина
129. Саша Врачёва
130. Ульяна Воротилина
131. Светлана Хромова
132. Марина Саулина
133. Татьяна Лыга
134. Ирина Круподерова
135. Алла Донцова
136. Натали Дружинина
137. Ирина Кочергина
138. Марина Руткевич
139. Лена Холли
140. Ирина Слободянюк
141. Елена Симакина
142. Людмила Алипкина
143. Елена Кириченко
144. Марина Гурова
145. Людмила Платова
146. Ирина Бердышева
147. Инесса Голубкова
148. Анна Харламова
149. Лидия Кайгородова
150. Наташа Колесникова
151. Ксения Зелепухина
152. Дарина Харечко
153. Татьяна Якушко
154. Юлия Корнеева
155. Елена Сунозова
156. Ольга Перковская
157. Елена Калинина
158. Алёна Владимировна
159. Светлана Василец
160. Оля Булавина
161. Ольга Тивикова
162. Дарья Балашова
163. Pafnushka Pan
164. Елена Черниговская
165. Ирина Ситалова
166. @irinarh_phsyquilt
167. @jimmy_netron1
168. @tatiana.barsukova
169. @shipulinykrestiki
170. @elena_p_klein
171. @mv1711l
172. @talya_60
173. @zaitseva7892
174. @alenakamelia
175. @oksanochka_leus
176. @svetlana_tatarinceva83
177. @kilinanatali
178. @svcross3450
179. @queer71
180. @nv.hohlova77
181. @broderie_de_eroxina
182. @kagitina.marina
183. @valya.aleshchenko
184. @rus.olik
185. @osaliveforever
186. @ptitsa.ivolga
187. @helga_hit
188. @iurgilnadezhda
189. @alegriaola
190. @maliutanatalia
191. @vc_stitch
192. @rozoks2000
193. @soroka_cross_stitch
194. @viktoria_istomina_kerch
195. @elena_sapryka
196. @larissa__harmony
197. @lelya_topolskowa13
198. @ossen09
199. @les.cactus
200. @jussique_fantastique
201. @fizzy_crossstitch
202. @_an_rou_
203. @liroy_vom_jupiter
204. @v.s.inst.2017_valeria
205. @darjanabo
206. @new_julija
207. @teakinst_embroidery
208. @basova_antonina
209. @ivolga15
211. @toffeek.01
212. @ekaterina_brill
213. @annike.craft
214. @dreamsv09
215. @foxytinas
216. @elenaledenec
217. @juliazayka_crossstitch
218. @elena_kozlova555
219. @sanechka_10
220. @mariya_kostukhina
221. @irissska62
222. @aleks.sukhareva
223. @deep_in_ginger
224. @yu.nedbaylo
225. @katya_milueva
226. @my_color_therapy
227. @khrenovanatali
228. @eugeniia_maniuhina
229. @zhmary_craft
230. @zlata.stitch
231. @zubrenchik
232. @tatiana_gorgadze
233. @ntusheva
234. @natalie_cross_stitch
235. @petrovaelena8466
236. @svetlanaisaeva8196
237. @kasja3
238. @gordinag6017
239. @limuza70
240. @elenaiieed
241. @svetlana_ivanchenko1401
242. @inna_sannyochek
243. @dina_sakhno
244. @visemakova_1217
245. @faith_vk
246. @lena.radionova
247. @peri_16
248. @olina_elka
249. @irina_fedotova21
250. @kseniamilaia
251. @yozhak_s_igolkoy
The list of participants from other countries:
252. Надія Корнійчук
253. Дарья Рындак
254. Светлана Забровская
255. Наталья Панкина
256. Гюля Гахраманова
257. Bogemi Bogemi
258. Людмила Омелечко
259. Ирина Карпенко
260. Галина Волченкова
261. Виктория Веришко
262. Наталья Сюй-Фу-Шун
263. Наталья Некрасова
264. North Lo
265. Alexandra Yakimchuk
266. Анна Гасанова
267. Галина Погорелова
268. Катерина Мак
269. Олеся Лапенкова
270. Ксения Вокуева
271. Елена Довгяло
272. @alelya_vishivalka
273. @olyazamkova
274. @raduga_1977
275. @vemm_stitcher
276. @dunyasha_cross_stitch
277. @milanika23
278. @ogcstitch
279. @maslaksvetlana
280. @alesya_veko
281. @alexbroderie
282. @malikova_art
283. @slovoleva_vishivaet
284. @tati.needlecraft
285. @imarinchic
286. @irinaanifer
288. @tomchik_sharonina
289. @ch.for357
290. @elena_skinder
291. @d_urocyon
292. @diana18carlton
293. @titaniaart
294. @ada_dann
295. @ijoye
296. @embroidarywith
297. @sanpon84
298. @varfolomeevamaiia
299. @kdbrown7270
300. @mamatata_p
301. @sofiko_stitch
302. @aka_alto_stitching
303. @coffeestitcher
304. @lyu8747359
305. @shahtarinav
306. @anjamasha
307. @embroiderelaine
The list of those who were found later: