Summing up the first stage of the SAL "Emerald City"

Elena Shirshova
July 7, 2019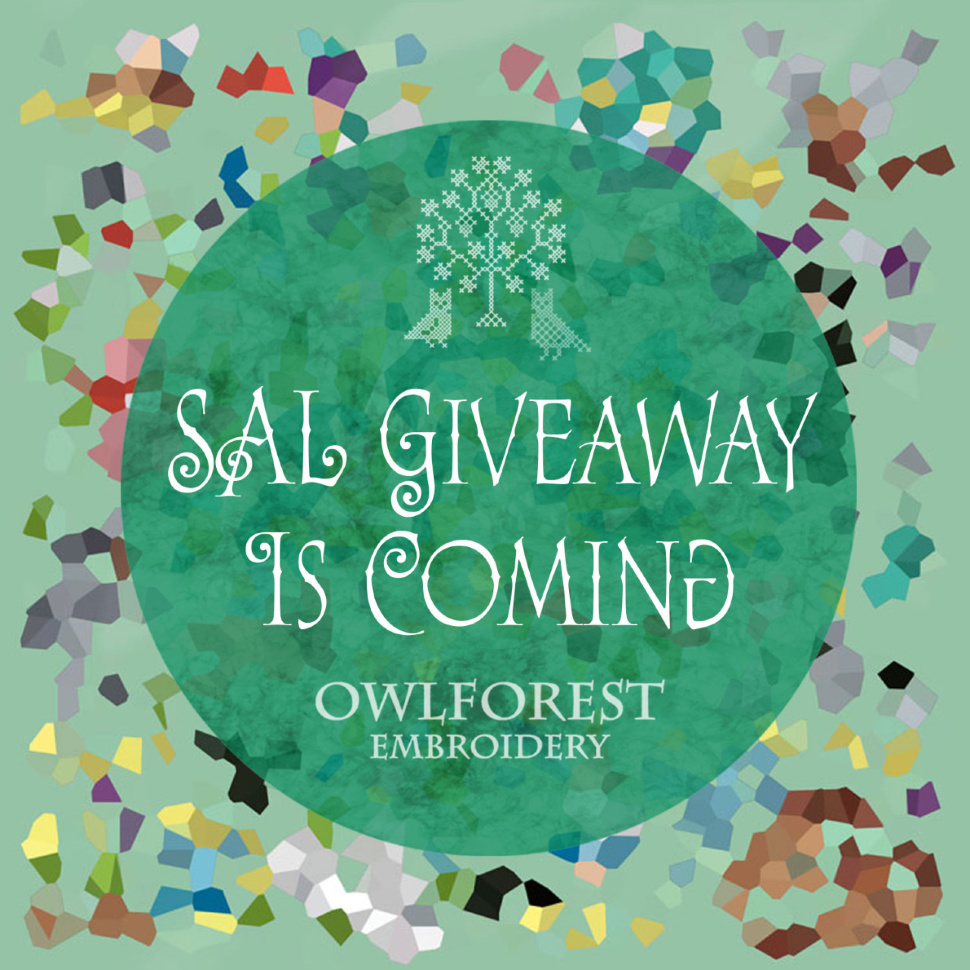 Dear embroiderers! Summing up the first stage took us a little longer than we expected. So many participants, so many wonderful works! It was very interesting to look at your works. One chart, one plot, but thanks to your imagination each work has its own peculiarities.
To all the participants who managed to embroider the first 4 parts before June 23, we give a 5% discount for all the goods in our online store owlforest.ru/en. To get a personal discount code, you will need to write to me in direct to @owlforest.embroidery.eng account on Instagram. Also there will be special prizes: 5 certificates for a discount of 500 rubles from our e-shop and the main prize — a set of accessories from @factura.stitch. The giveaway will be held on Tuesday at 11:00 Moscow time, Galina will hold it in Russian, later we will post the video and publish the results in English.
Below we have published the list of the participants in Instagram, you can see your number, if we made an inaccuracy, please write to us.
If someone has not yet subscribed to @factura.stitch, we recommend that you do this before the raffle, as one of the conditions for receiving a set of accessories is to be her subscriber. We will choose the winner by random, check if one is a subscriber of Marina, and if not, the result is canceled, the rally is played again.
1 lelya_topolskowa13
2 lesya_crosstich
3 creativepositiv
4 t_koroleva_hobby
5 svetlanka_hobby_stitch
6 les.cactus
7 daria_murano
8 queer71
9 tshealrogers
10 katerinochka_mir
11 malyavka.nata
12 diana18carlton
13 titaniaart
14 g.la._
15 jussique_fantastique
16 zininagalina
17 olyazamkova
18 pletu_krestiki
19 alegriaola
20 rozoks2000
21 shust_rova
22 alena_birdie
23 marusya.valiuk
24 volkova_yuliya7
25 irinarh_phsyquilt
26 malikova_art
27 dina_sakhno
28 digitalfeya
29 klykanova
30 dimkina_yulka_handmade
31 craftycandice
32 soroka_cross_stitch
33 lady.marinno4ka
34 irina_crossstitch
35 larisalekseeva
36 olina_elka
37 olechka_olgaefimova
38 vavilon1415
39 yu.nedbaylo
40 alelya_vishivalka
41 iagodka3759
42 cacti_cross_stitch
43 broderie_de_eroxina
44 vc_stitch
45 nv.hohlova77
46 irina.shtanko.58
47 varfolomeevamaiia
48 elena_sapryka
49 eugeniia_maniuhina
50 alexandrovanadezda
51 shinoblue21
52 luchik_den
53 natali_n91
54 d_urocyon
55 mlk_pro
56 j.barvinskaja
57 mariyafoxic
58 blinchik80
59 miagrama
60 ch.for357
61 ossen09
62 fizzy_crossstitch
63 maliutanatalia
64 alesya_veko
65 iurgilnadezhda
66 alenakamelia
67 tatiana.kropina
68 katerina_misshobby
69 ijoye
70 gogobaratheon
71 helga_hit
72 lubluvushivat
73 svcross3450
74 teakinst_embroidery
75 xew.stitch
76 kdbrown7270
77 nastena_maktseva
78 elenapalen
79 vichivaloyka
80 annashikhirinakiseleva
81 elena_kondratenk
82 nadya_ivanchenko_
83 foxytinas
84 _tulovskaya_
85 anjamasha
86 yozhak_s_igolkoy
87 olja_samsonova
88 toffeek.01
89 shipulinykrestiki
90 darjanabo
91 olensladkoezhka
92 marina_dozorova
93 slovoleva_vishivaet
94 hobbyart_olga
95 nadinka1510
96 bystrova_cross_stitch
97 nathalie_sfs
98 kasja3
99 panigalka
100 imarinchic
101 zhmary_craft
102 larissa__harmony
103 kseniamilaia
104 namechtala
105 natalca_handmade
106 basova_antonina
107 sanpon84
108 pomeranna
109 ivolga15
110 iriska_handmader
111 hobby_xstitch
112 irissska62
113 natalyakatysheva
114 return.of.the.superfox
115 svetlanaisaeva8196
116 kind_ghost_c
117 oksanochka_leus
118 ada_dann
119 kristina_1308
120 _an_rou_
121 ekaterina_yakupova__kozlova
122 petrovaelena8466
123 ntusheva
124 ogcstitch
125 mickevichelena
126 sanechka_10
127 juliazayka_crossstitch
128 irinaanifer
129 natalie_cross_stitch
130 new_julija
131 kanyginao
132 zubrenchik
133 panda_piterskaya
134 raduga_1977
135 kagitina.marina
136 zlata.stitch
137 tatiana.barsukova
138 jimmy_netron1
139 anya.gasanova
140 victoryvika11
141 kvadratnaya_ulitka
142 svetlana_tatarinceva83
143 lyu8747359
144 annike.craft
145 elena_sunozova_
146 elena_kozlova555
147 osaliveforever
148 spirit_of_embroidery
149 tati.needlecraft
150 maslaksvetlana
151 talya_60
152 aksiniya_ksusha
153 elenaiieed
154 tatiana_gorgadze
155 my_color_therapy
156 sofiko_stitch
157 aleksandramir22
158 kaihyou_azarashi
159 rus.olik
160 v.s.inst.2017_valeria
161 alyonakorah
162 gordinag6017
163 elena_skinder
164 sagdiya
165 lena.radionova
166 nokitana_xrestik
167 peri_16
168 samum1969
169 gulya_solnce
170 deep_in_ginger
171 dunyasha_cross_stitch
172 mariya_kostukhina
173 tomchik_sharonina
174 elenarumyantseva_
175 elena_p_klein
176 milanika23
177 shahtarinav
178 dragonfly7673
179 coffeestitcher
180 marinafediy66
181 inna_sannyochek
182 mv1711l
183 limuza70
184 demchenko_alena_22
185 risunki.na.kanve
186 kilinanatali
187 svetlana_ivanchenko1401
188 kootikolga0
189 elenaledenec
190 lana_isaeva118
191 katya_milueva
192 moxraz_flo
193 aka_alto
194 olgacrossstitch
195 lilypadrevivals