Embroidery kit "Kvassnik"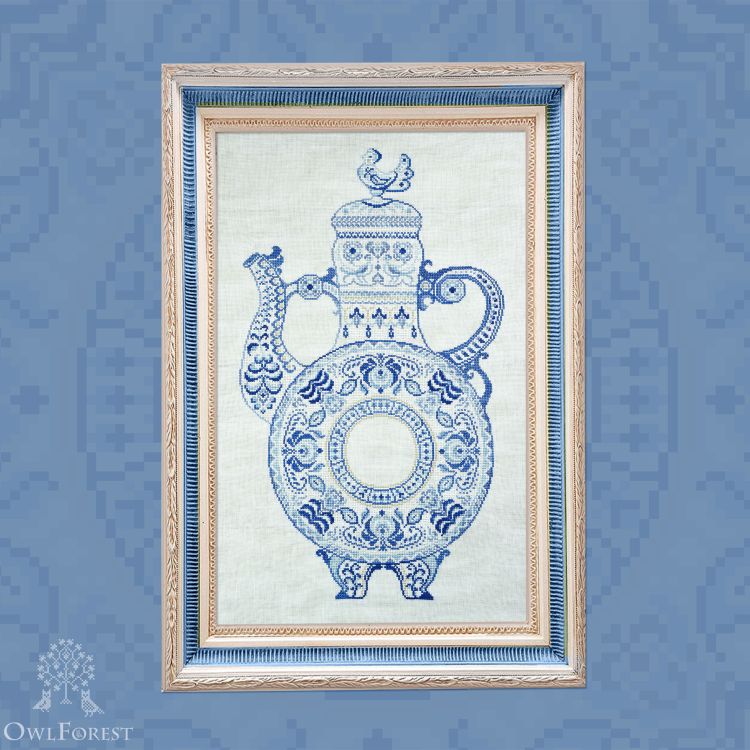 The word "Kvassnik" means "a vessel for kvass," and "kvass" is known worldwide as a Russian famous drink. Wikipedia writes that kvass is a traditional fermented Slavic and Baltic beverage commonly made from rye bread.
Galina loves our beautiful Russian patterns in all their forms. She says it is very interesting to look at them, to redraw them, convey them with the help of cross-stitches. This kit ideologically is a continuation of the series with Russian practical arts, started with the "Painted Distaff" kit, where we used patterns based on the Boretskaya painting. Now we have such a wonderful vessel for you. It has an unusual and interesting form and if you prefer shades of blue color you can please yourself with Gzhel patterns.
Please note that there is an opportunity to purchase an article with a wonderful themed wooden bobbin from Ruzanna, P & W: Primitive and wood . The bobbin is made for five colors, it is the amount of colors of threads in the kit. The bobbin will be a great addition to your work.
The kit contents:
Zweigart Belfast, 32 ct, 100% linen
Hand dyed cotton floss
Needle for embroidery №26
Coloured symbol printed chart
Additional printed chart divided into fragments
Needle minder
| | |
| --- | --- |
| Designer | Galina Egorenkova |
| Number of the floss colours | 5 |
| Number of cross-stitches | 13324 |
| Size (cross-stitches) | 162 × 275 |
| Size (centimeters) | 25.5 × 43.5 cm |
| Embroidery technique | Cross-stitch |
| Size of the chart sheet | A3 |
| Type of the chart | Colored Chart |
| Instructions language | Russian, English |
Categories: Kits Russian Art